No one seems to have bothered with Halloween much this year, and who can blame them. America has it's own
horrors
to worry about and Britain is probably too focussed on the first TV showing of the concluding Avatar episodes on NickToons (so excited!) to care. But I have warm memories of watching old Universal Monster movies in late October back when I was a lad so always feel the need to celebrate.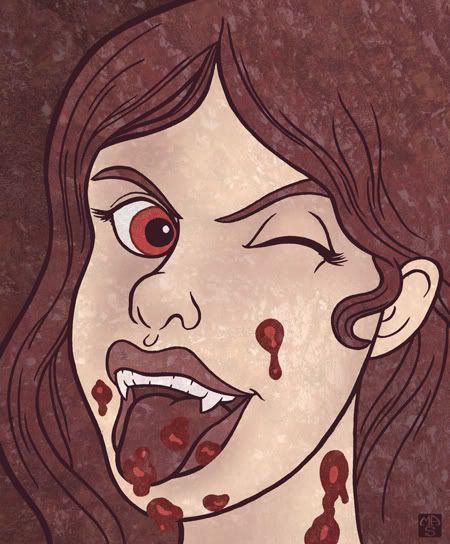 This is the first of two Halloween pics this year. I felt I had to draw the second one to apologise for the first.
Yes I know, it was just that I was watching this documentary on Bram Stoker where they suggested that a scene in Dracula seemed awfully similar to a, urm, certain sexual act. At this point I got that strange glint in my eye that people have learnt to fear at conventions when we're coming up with things to sketch.
In my defence there are literally thousands of comic book covers where this s done unironically.
A remixed classic.

And as a special treat read the original story here

If any of you feel the need to stab a design into a vegetable I have a Vichama pumpkin stencil you're more than welcome to use.
Need something to cover your hideously disfigured face? Why not try something drawn by Mr. DFC himself
Zak Simmonds-Hurn
, some super scary
Halloween Masks
.
And if you're still not in the mood have a listen to
Stan Lee read The Raven
! Via Mr Kevin Church's twitter.